with Alicia Applegate, Visual Artist and Childhood Educator
& Brittany DeNegris, Mixed Media Sculpture & Performance Artist
Fridays, Sept 1‑Dec 16
*No class Nov 11 & 25
"My most favorite part was my teachers and making a wolf cape and doing a cool act like the puppet show. When mom says it's time to go to Salamander I am excited!" ‑Ezra
In Sensory Art Lab, we will craft art projects inspired by sight, sound, touch, taste, and smell. We will assemble the very first 'Salamander Band' with our very own instruments; We will make sculptures out of paper pulp, emphasizing texture with the forms we make; We will explore interactive art with scents we love…

Alongside our planned curriculum, each child will also be encouraged to come to class with their own big ideas for new projects! Everyone will be assisted through the full art-making process, from brainstorming ideas, to planning structures and materials, to finally putting it all together. This class will provide a fun and engaging experience for your young artist to unlock their creative potential!
Meet your Teachers!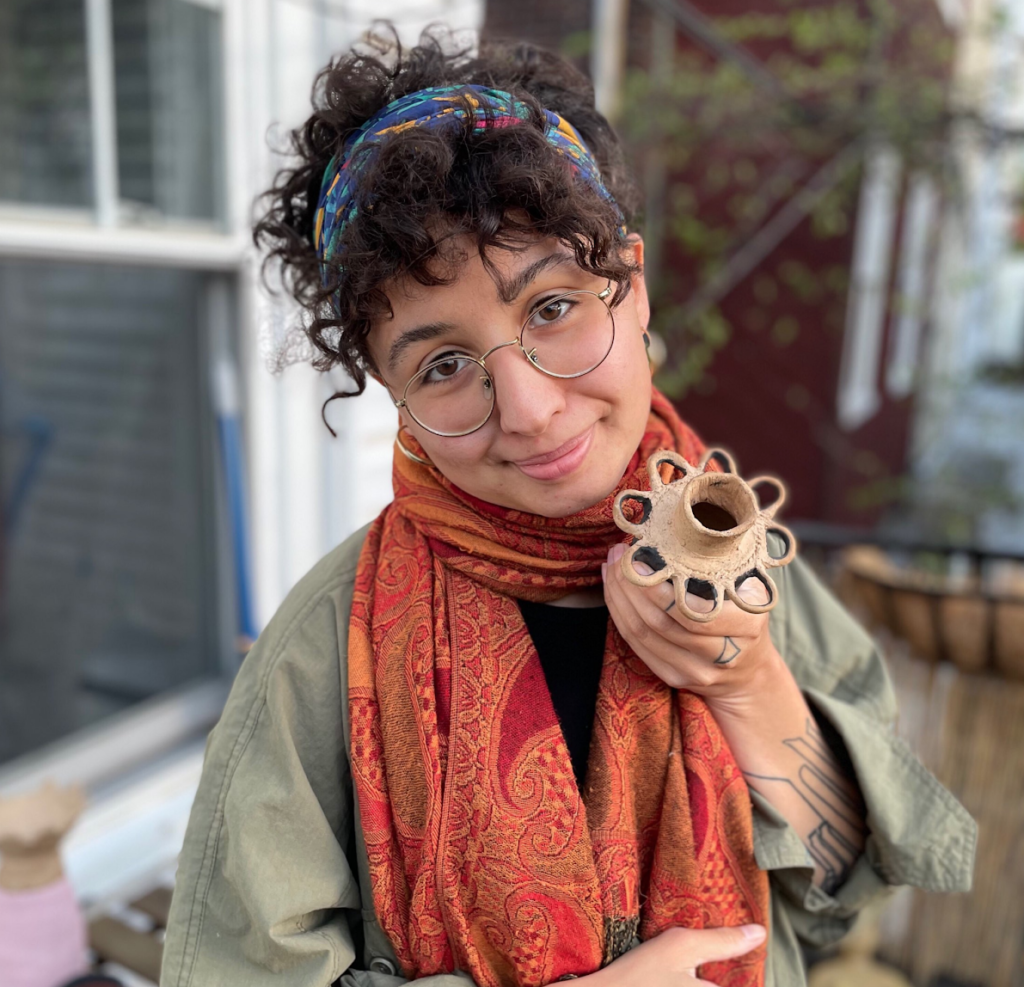 Alicia is a visual artist, arts educator and founding teacher with Salamander Arts! She received her BFA in Art Education from the Massachusetts School of Art & Design, and is currently obtaining her horticulture certification from the Barnes Arboretum at Saint Johns University. While using ceramics, textiles, painting and more, her passion lies in giving students the basic tools to develop their creativity into something tangible. Her art-making process revolves around collaboration, joy and trusting her intuition, which are principles that integrate seamlessly into her teaching practice.
Brittany DeNegris is a mixed media artist who sees art making as a way to explore infinite what ifs(?). Her practice is led by process, and plays with a fascination with materials, landscapes, language, and the richness of daily life. She has made projects and research internationally (Svalbard, South Korea, Japan, Mexico…) and throughout the US. She has taught at various universities and colleges, as well as worked with young children. She holds a BFA in Visual Communication from the University of Delaware and an MFA in Art from Carnegie Mellon University.
Enrollment Includes
Small Group Classes (10 kids max) with individualized attention to students' needs and interests
Highly skilled instructors with backgrounds in Somatics, the Arts and Education, trained in our Salamander Arts Pedagogy highlighting Embodiment/Mindfulness, Creativity

&

Community
A cozy environment for kids to rest, connect, and create
Fun activities that support emotional, physical, mental, and social wellbeing

&

development
Collaborative projects that foster community across age and background
Leadership opportunities for kids of all ages and abilities
Support for developmental and behavioral goals
Weekly Emails with Photos

&

Updates
Step-by-step instructions for Arts Based

&

Embodied Mindfulness Activities you can do at home
A final show and gathering to celebrate your young artists
School Pickup from Lea

&

Penn Alexander
Healthy Snacks
Homework Assistance during snack

&

sketchbook time

COVID

safe practices
Registration
*Friday Registration is Full*
To be on our waitlist, contact info@visioningbody.com